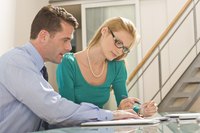 An annual review can make you feel like you are under the microscope and have to prove your worth once again. This is the time to toot your own horn. In an article for USA Today, Laura Cavender writes that you cannot expect your supervisor to know about accomplishments that you have not personally told her or to remember all the ones she witnessed. Therefore, it is important to know your accomplishments and strengths and how to bring them to light during your annual review.
Review your official job description, which lists the competencies and goals your supervisor expects. Use this as a starting point when preparing a list of your accomplishments. Match your accomplishments with your job duties and requirements, the priorities of your supervisor and your company's goals.
Use your past performance and/or annual review. If you have worked at a company long enough to have already received a review in the past, use it to help you list how you developed positively in areas that needed improvement.
Think of ways you helped the company and write them down. Examples can include increasing sales, reducing costs, gaining new clients, improving workplace efficiency or enhancing safety. You can include times you helped the company gain positive attention through volunteer work or mention the community boards and company committees on which you served.
List professional accomplishments. In addition to listing how you helped the company, should discuss how you grew as an employee and professional. Bear in mind that your final list of accomplishments should only be one to two pages long.
Gather evidence to support your list of accomplishments. Using concrete examples to back up your achievements can help prove your case. Evidence can include documentation to show that you completed training, company records of milestones and performance highlights to which you contributed, awards and certificates of recognition. You can also include emails or notes of appreciation you received. Attach the materials gathered to your official list of accomplishments.
Start with action words or statements when listing each accomplishment. Such words can include the following: implemented, marketed, established, created, recruited, received and gained. In addition to writing about what you accomplished, include a brief statement about how you arrived at the accomplishment. Avoid making broad statements and make references to the supporting information you provided with your list of accomplishments.