Smoking and its effects on weight loss
Smoking has long been linked to weight loss. A St. Louis University study examining elderly nursing home patients found that smokers lost weight faster than non-smokers. Meanwhile, smokers also gained weight more slowly than the non-smokers. While smokers may lose weight, a study by the University of New South Wales and University of Melbourne found much of the weight loss was muscle mass when testing groups of mice.
How smoking causes weight loss
As a stimulant, smoking can increase your heart rate. With every cigarette smoked, the heart will beat as many as twenty times more per minute, according to SmokeFree.gov. This causes the body to burn calories faster and a subsequent increase in in metabolism, which prompts weight loss. In another sense, cigarettes can cause weight loss because of their appetite-suppressing qualities. Smokers will often smoke instead of eating a meal, prompting a loss in weight. The nicotine in cigarettes can also stimulate the central nervous system in a mild way, according to a piece by Carrie Paulus at Vanderbilt University.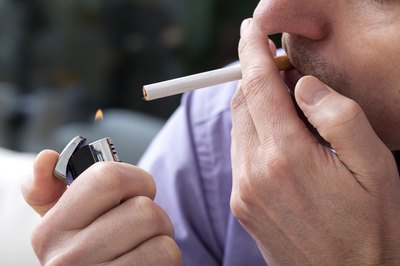 After smoking
While smoking can cause weight loss, the effects are usually temporary. According to SmokeFree.gov, a part of the Tobacco Control Research Branch of the National Cancer Institute, those who quit smoking may gain back between four and ten pounds. The amount gained back depends on the number of cigarettes smoked a day. Smokers on average tend to weigh less than nonsmokers, and the site also suggests that the amount of weight gained merely puts the smoker at the weight they would have been pre-smoking, given their lifestyle choices. By this reasoning, the true problem lies in the smoker's lifestyle. To appropriately and healthily lose weight, smoking should be avoided, and good eating and exercise habits should be established.