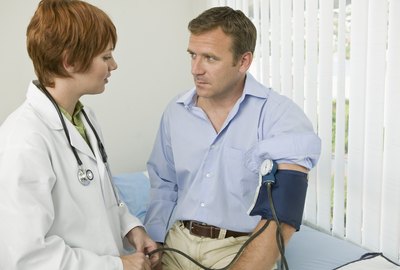 Low Blood Pressure
Low blood pressure measures the speed at which blood moves throughout the veins in the body. Low blood pressure, also known as hypotension, differs from high blood pressure in that low blood pressure may not affect the patient when the blood pressure drops to a specific level. If the patient has a certain blood pressure reading and experiences no symptoms, the blood pressure is considered normal. If another patient has the same blood pressure reading but experiences low blood pressure symptoms, including headache, dizziness, fainting, irregular heartbeat and loss of consciousness, this person is considered to have low blood pressure. A normal blood pressure level is considered to be 120/80, although these numbers can range from 90 to 120 for the first measure (systolic pressure) and 60 to 80 for the second (diastolic pressure), so anything under this may be considered low blood pressure if the patient has symptoms.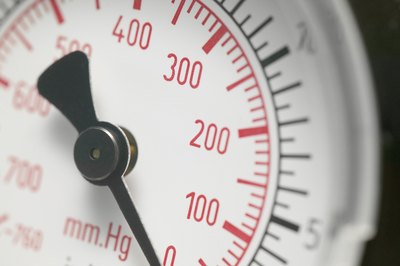 Headaches
Low blood pressure can cause headaches, especially associated with dizziness or fainting. When blood pressure is very low, it can prevent blood flow, and therefore oxygen, from getting to essential areas of the body like the brain. Loss of oxygen to the brain causes most symptoms of low blood pressure, including headaches. If you have persistent headaches, as well as any other symptoms of low blood pressure, including dizziness, fainting, seizures, chest pain and irregular heartbeat, contact your doctor as soon as possible. There may be a cause for your low blood pressure, which could include septic shock, blood loss or bradycardia, which is when the heart rate slows, possibly due to other medications you are taking.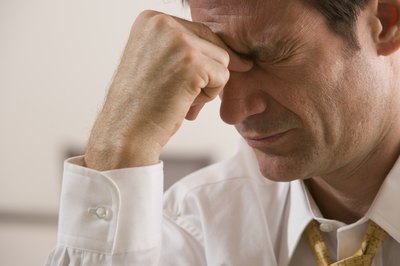 Treating Low Blood Pressure
If you don't have any symptoms, low blood pressure does not need to be treated. If you do have symptoms of low blood pressure, however, treatment is imperative. Low blood pressure is diagnosed by your general care practitioner. Your doctor will measure your blood pressure while both sitting and lying down. Your doctor may also measure your blood electrolyte levels and take blood tests to rule out any other causes of your symptoms before diagnosing you with low blood pressure.
Low blood pressure is treatable with a doctor's care, and there are a few things you can do at home to prevent the symptoms of low blood pressure. Your doctor can provide you with low blood pressure medication, like noradrenaline, which increases heart rate. If your low blood pressure is not severe, your doctor may recommend incorporating electrolytes into your diet by eating lots of vitamin-rich fruits and vegetables. Dehydration can also cause low blood pressure, so your doctor may give you an IV of essential vitamins and electrolytes, or instruct you to drink sports drinks to regain electrolytes.