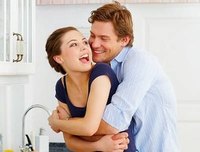 Rochelle Bloom, the president of the Fragrance Foundation, advises to "apply cologne on the places where you can feel the beats of your heart." These pulse points are over your heart, the sides of your neck and your wrists. Strategically applying cologne to the pulse points will make the scent of your cologne last longer. There are claims that directly applying cologne can ruin your clothes. However, in the end, cologne applied onto skin is more effective than when sprayed onto clothing.
Splashing too much cologne can be overpowering. If you are constantly smelling yourself, then you know you've used too much. Using several variations of the same scent can be used sparingly. For example, you can safely apply the same scent in the form of a body wash and cologne, but two spritzes or light splashes will be sufficient. Oily skin has the ability to retain scents longer; if you have dry skin, reapply more frequently.
Unless you're intentionally layering scents that you know absolutely work, avoid clashing different products that smell nice. Applying too much of a good thing may lead to the opposite reaction, especially when dealing with unique scents.