If a food contains calories, it supplies you with energy. But that doesn't mean all sources of calories supply an equal amount of energy. To feel energized, you need to eat the right balance of nutrients and make the right food choices. During digestions, the foods you eat are broken down into smaller particles, such as amino acids, sugars and fatty acids. Then they're absorbed via the digestive tract and utilized by the body for energy or to maintain other bodily functions.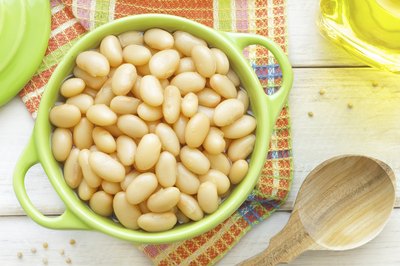 Carbs, Protein and Fat
Carbs, protein and fat are the major nutrients in food that provide your body with energy. Carbs and protein provide 4 calories per gram, and fat provides 9 calories per gram.
For example, 1 cup of reduced-fat chocolate milk contains 192 calories, 30 grams of carbs, 7.5 grams of protein and 4.75 grams of fat. That works out to 120 calories from carbs, 30 calories from protein and 42 calories from fat.
To maximize energy levels and promote good health, it is recommended that 45 percent to 65 percent of your total calorie intake come from carbs, 10 percent to 35 percent from protein and 20 percent to 35 percent from fat.
Energy From Carbs
While each of the macronutrients provides your body with energy, carbs are easily utilized and the body's preferred source, which is why it is recommended that most of your calories come from carbs. Carbs are found in a variety of foods, including fruits, grains, starches, milk, yogurt, legumes and vegetables.
Junk food, such as soft drinks, cake, cookies, chips and fast food, are also a source of carbs. But if you're trying to get more energy out of your food, these foods do not make the best choices. Filling your diet with refined and processed carbs may make it harder for you to maintain a healthy weight and increase your risk of heart disease and diabetes, according to the Harvard School of Public Health.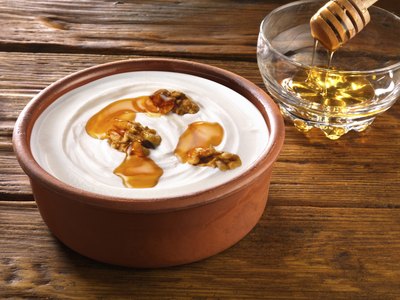 Low-Glycemic Carbs
To prevent fluctuations in energy levels, include carbs with a low-glycemic index, which is a measure of how foods affect blood sugar. Foods with a low-glycemic index, a measure under 50, digest slowly, providing a longer, more even source of energy.
Examples of low-glycemic carbs include whole-grain pumpernickel bread, bran cereal, barley, bulgur, whole-wheat spaghetti, beans, carrots, peas, oranges, apples, pears, peaches, milk and yogurt.
Fat for Athletes
Fat serves as another option for energy. It's an especially important source of energy for athletes. For low-intensity endurance sports, such as marathon running, the body uses fat as the primary source of fuel. Eating a little healthy fat, such as a handful of peanuts or soy nuts, before a long run may help improve energy, says the Academy of Nutrition and Dietetics.
For high-intensity sports, such as basketball, you need fat to help release the energy from the carbohydrates.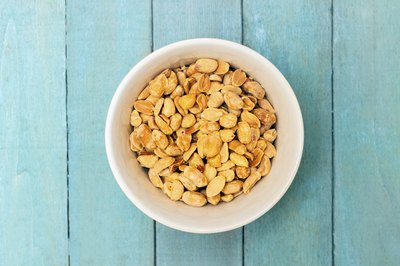 Protein for Energy
If you don't eat enough carbohydrates, your body uses protein for energy, although this is not your body's preferred method. When protein is used for energy, however, it compromises the nutrient's primary job, which is to repair and rebuild tissue and muscle.