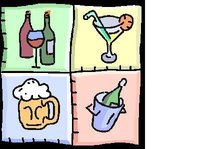 Starting a business that sells liquor is like any other, with one big difference--the commodity you plan to sell is one of the most heavily regulated and taxed products in the United States. Along with tobacco, firearms and explosives, liquor holds a potential for injury or death when used to excess or without care. Only prescription drugs are more carefully regulated. Before you write up your business plan to open that wine shop or corner tavern, get to know what steps you need to take for an additional license you'll need---a liquor license. As a retailer, you'll need to qualify for and get two licenses: a license to sell liquor and a license to serve liquor.
The federal government controls production, import, export and wholesale distribution of liquor under the Interstate Commerce clause of the U.S. Constitution, but individual states control retail licenses for the sale of beer, wine and distilled spirits within their boundaries. The state department of alcohol beverage control awards licenses to sell liquor but the number of licenses within a county or municipality will be limited, either by state regulation or municipal ordinance. Types of licenses vary from packaged goods to individual service for beer and wine, distilled spirits or both.
Contact the state licensing board to find out requirements, process and where licenses are available. You may be able to apply online for a license. Most existing licenses have current owners. You will need to purchase control of a retail license the same way you would buy any business--by value based on past and projected profitability. License brokers can help locate and purchase licenses, and expediters can guide your application through licensing processes. Be prepared for background checks on you, your friends and family. Any information used to deny an applicant a license must meet state requirements for relevance to your proposed business. A good business attorney is your best friend in this process.
Local governments control licenses for people who will serve liquor--and can revoke or suspend either type for cause. Qualifications are dictated by state statute. Qualifications include age and server training, often through the state's technical college system. Most servers' licenses specify what type of liquor the holder is licensed to serve or sell. Unlike a retail liquor license, a server's liquor license attaches to the server, not the premises. Most must be renewed from time to time and require re-training to keep the holder current on state laws and regulations.
Price and availability of retail licenses depend on location. Fees vary according to the type of business and type of alcohol sold or served. A local attorney can help navigate hearings, notice requirements and help with the negotiation. Avoid states, counties or municipalities where the government owns all the retail licenses; your chances aren't good against a monopoly. Check local zoning laws for any special local regulations on land use for commercial establishments.