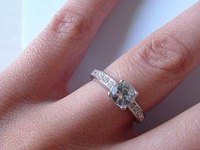 Understanding how your insurance company will pay for a claim on jewelry is important. Why? It will help you insure your prized gems properly and save money in the long run. Also, it will give you an inside look at how pay out works with property claims. It's information that might surprise you.
Jewelry claims are paid according to the type of insurance policy they are covered under. The two basic policies are homeowners and personal article floaters. Under a homeowner policy, jewelry claims are typically paid based on their current market value at the time of the loss up to a specified limit and less the deductible. So, for instance, a watch you paid $2,000 for, but depreciates through the years to $200 will only be worth the $200 at the time of the claim. If your homeowner's deductible is also $200, you will end up getting paid nothing. Personal article floaters pay jewelry claims based on the listed value for the piece on the policy. They require that you appraise your jewelry and keep this value up-to-date. So, for instance, a necklace listed at $2,000 on the floater policy will only pay out at this amount during a claim regardless of appreciation or depreciation. So, if this watch appreciates through the years to $10,000, you will still only get $2,000 unless you update your floater. It's important to note that most people who own inexpensive jewelry insure it all under their homeowner's policy. Conversely, people who own more expensive jewelry opt for a personal articles floater.
Be aware that certain losses aren't covered. Obviously, theft is a covered loss on any jewelry policy, but nuclear war is not. Since this type of loss is improbable, the lack of coverage is not important. However, it is worth any policyholder's time to go over the exclusions listed on their insurance policy to make sure there is not something listed that he or she needs covered. Outside of this factor, the main focus is adequate coverage and, again, this depends on the value of your jewelry. Inexpensive jewelry can be adequately covered under a homeowner's policy. Expensive jewelry can be adequately covered under a personal articles floater. So take inventory and make sure you are properly insured.