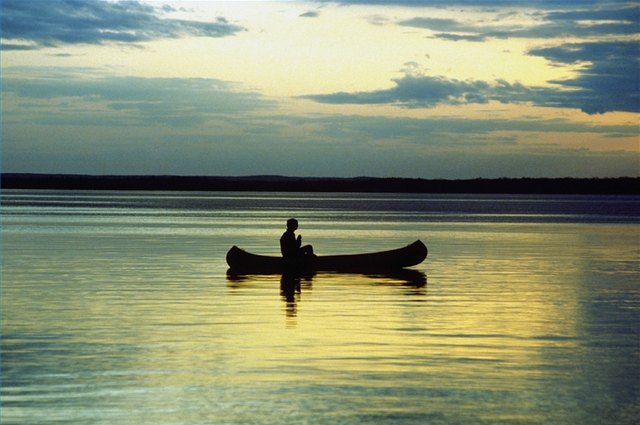 Dugouts were used historically by a people when exploring new territory.

— Bob Gillis, inventor and first-time dugout canoe carver
It's likely that you've seen a dugout canoe on display in a museum, or perhaps at summer camp when you were a kid. This primitive water vessel -- basically just a hollowed-out log -- was used for centuries by everyone from Native Americans and early American settlers to African villagers.
Though canoe and kayak design has advanced greatly since dugouts were used as a primary means of transportation, people still use them for fishing and make them as a family tradition or hobby.
A Brief History of the Dugout Canoe
The first known use of dugout canoes in North America dates back 6,000 to 7,000 years ago.
Examples of dugout canoes have been found all over the world, including in Africa, Europe, the Pacific Islands and the United States. In fact, the word "canoe" comes from natives of the West Indies, who referred to their ingenious wooden boats as "canaoa."
While dugouts have been used by native people for centuries, the best-documented use of the form was by early American explorers Meriwether Lewis and William Clark, who were commissioned by President Thomas Jefferson in 1803 to explore the uncharted land that came to the United States in the Louisiana Purchase.
The group traversed rough terrain that included the Rocky Mountains and an abundance of rivers and lakes. Because hauling these heavy boats throughout their journey would have been treacherous, they carved more than 15 dugout canoes and built other water vessels near the water, according to an article by Joseph Mussulman of The Lewis & Clark Fort Mandan Foundation.
"Generally the dugouts were about 30 feet long and up to 3feet wide, with a capacity of between two and three tons, including four to six men," Mussulman said in his report. "Empty, each canoe may have weighed as much as a ton."
Because the vessels were so heavy, they were difficult to move on land. Jeff LaRock of the Lewis and Clark Interpretive Center in Great Falls, Montana, says Lewis and Clark built a cart to carry some of the canoes. However, the larger boats often were abandoned on the shore after they were used.
The explorers began their journey making dugouts the traditional way, using an axlike tool called an adz to chop the boat cavity into shape. The Nez Perce Indians showed them another method that involved burning out the cavity. "This method is much faster, and they wind up using it to build dugouts when they reached the far side of the mountain," LaRock said.
Traditional Uses Today
Though modern technology has made the dugout canoe a largely obsolete form of water transportation, historical preservation groups and museums still commission dugouts to commemorate Lewis and Clark or simply for display.
Inventor Bob Gillis of Northern California was interested in woodworking and woodcarving, but he had never taken on a project like building a dugout canoe before he was commissioned to carve one in 2007 by the Hayward Area Historical Society Museum near San Francisco, California.
"I did some research before I accepted the task. I am not really an expert, but I built boats when I was younger," Gillis said. "Dugouts were used historically by people when exploring new territory. The museum wanted the canoe as part of a celebration of the Lewis and Clark expedition bicentennial."
When early settlers came to a river they had to cross by boat, Gillis explains. They found a fallen tree or cut one down near the water. "Dugout canoes traditionally weren't transported," Gillis said. "A group of men would push and drag the canoe until it was in the water."
Keeping the boat in the water also kept it from drying out. Because settlers and natives didn't have chemicals to treat the wood, it was susceptible to cracking if it became too dry. Once a dugout's wood was compromised by cracking, it could no longer be used, and the time and labor put into carving it would go to waste.
To complete his project, Gillis hired two people to help carve his dugout; traditionally, many men would work together to finish a canoe in just one day. "It took me a week and a half, working about a half a day every day, which isn't too bad," said Gillis. "Because it was so heavy, transporting the canoe to the museum was quite the undertaking. We never did get to test it out in the water."
Though Gillis' canoe was just for display, groups from throughout the United States use dugout canoes to follow the original Lewis and Clark trail along the Missouri River, through states including Idaho, Montana, Missouri and Kansas.
Building the Canoe
Before Gillis began making his canoe, he carved a model from a piece of wood 10 to 12 inches long so he could go through the process on a smaller scale.
Choosing the right timber is necessary for a successful dugout. Cottonwood has traditionally been used because it is soft and often grows near water. This was also the wood of choice for Lewis and Clark's dugouts. Gillis, being from Northern California, was able to find a redwood timber producer willing to donate a log to his project.
"You need a log that's big enough in diameter so when it's cut in half and hollowed out, it's big enough for you to carry the people you want to carry," said Gillis. "The log that I used was pretty hefty. It was relatively short -- I think it was 10 or 12 feet long -- but it was quite huge."
After stripping off the bark, Gillis flattened the side of the log he envisioned as the bottom of the canoe.
"If you have a flat bottom, it makes a much more stable boat, whereas if you leave it round, then it's like a log in the water and it will just roll and dunk you out," he explained.
"We used a chain saw, or you can use a hand saw or use more primitive tools, to cut across the grain so that large chunks of wood can be split off to create the flat bottom and the top of the boat."
Keep in mind that the tools necessary to complete a dugout canoe are sharp and often dangerous. Make sure to do your research, talk to professionals and take time with the project. If you're close to a body of water, the benefits of having a solid, dependable wooden boat can be enjoyed immediately.
Photo Credit Medioimages/Photodisc/Photodisc/Getty Images
Promoted By Zergnet