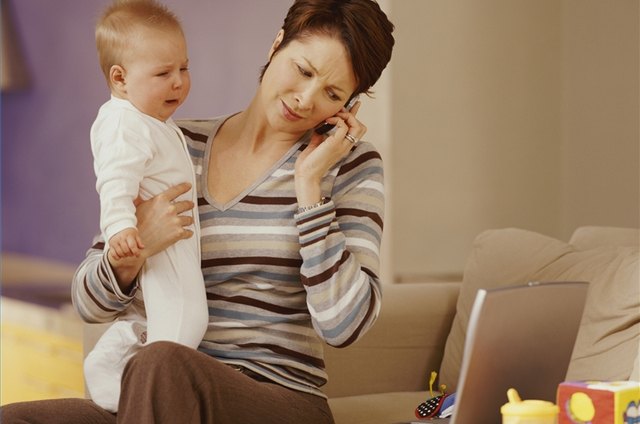 "You need to re-energize or you're not going to be able to do your job as a mom."

— Christina Elston, managing editor, L.A. Parent magazine
Ask any mom, and she will tell you her fantasy sounds a lot like the one Tina Fey described in "Date Night." In case you didn't see the movie, Fey plays Claire Foster, an overwhelmed working wife and mother who lusts after "a quiet room, where I can eat my lunch with no one touching me. And drink a Diet Sprite."
Such daydreams seem farther from reach for new moms who would kill for the time to read a book or shower while the baby -- gasp! -- sleeps through the night.
While the whole sleeping-through-the-night thing can be as elusive as a Kardashian without a reality show, finding "me" time as a new mom isn't the Holy Grail. Instead, it's a healthy step that must be taken.
With a little planning, a reliable support system and a helping hand from Dad, new moms with no time can carve out minutes -- even hours -- every day to shake off the new mom blahs without the guilt.
"If you don't make time for yourself as a new mom, you're not going to be any good to anyone, especially your baby," said Christina Elston, managing editor at "L.A. Parent" magazine, a publication that has been helping moms and dads for more than three decades. "You need to re-energize or you're not going to be able to do your job as a mom. It's tempting to cheat yourself, but it's important not to."
Make Plans and Keep Them
Making time for herself has made Erin Chan Ding a better mother to her nearly 2-year-old tyke Chandler, she said.
"I think it's crucial that moms take time for themselves -- not just social time but time when they are completely alone and doing whatever they want to do," Chan Ding said. "We just can't be all about the baby all the time, or it's going to, at some point, make us resent being mothers."
Her secret?
Chan Ding takes Chandler to the gym and takes advantage of the two hours of free daily child care that is included in her membership.
"I take the first hour to do my four-mile run and shower," the Chicago-based freelance writer said. "The second hour, I'm with my laptop or iPad in the gym cafe, hopping on the free wireless and catching up on emails." Or, if she needs to, just relaxing.
The time makes Chandler a better kid, too.
"He can run around, play with toys and socialize with other kids," Chan Ding said. "So he gets his exercise in, too."
Sometimes, you can create little escapes without leaving the house.
Truc Tang, who owns the reusable shopping bag company Pretty Green, works from home. But this doesn't stop the mother of 6-month old twins, Lucinda and Everest, from making concrete plans to connect with friends.
"I have a girlfriend who just had a baby, and we call each other throughout the day for 15 minutes of conversation here and there," Tang said. "It's a great support system, and it's good for laughs and venting."
Establishing a Support System
As a new mom, you learn very quickly who has your back. Sometimes it's a friend who also knows what it's like to be a mom or dad. Other times, it can be family members and even hired nannies and sitters.
What matters is that you're not juggling a baby, life and, in some cases, work all by yourself.
"It really does take a village to raise a child," said Wendy Sachs, editor-in-chief at Care.com, an online agency that screens potential nannies, among other workers. "Finding trusted and wonderful child care is the backbone for working moms -- and one of the biggest stressors.
"You simply can't go to work unless you have care for your kids."
Quality nannies and baby-sitters can also free up moms and even dads so they can have date nights, take naps or grab lunch with friends.
"A sitter can make it easier to set appointments on a regular basis," Elston of "L.A. Parent" said. "It's even better if there are other people involved. That way you're accountable not only to yourself but your best friend or your yoga teacher or your book club."
Leaning on Dad
Tang and her husband, Jae Lee, employ a nanny. They do have twins, after all. But when the nanny is off, the couple relies on each other. This is especially important when Tang needs time to shop or pamper herself.
"Now that the kids are bigger and can play, he takes over for a few hours during the weekend and I get to have 'me' time," Tang said. "I've used this time to have lunch with a girlfriend, and last weekend, I went shoe shopping."
You have to lean on your mate, said Yasmin Gharib Wade, a casting director and the mother of 10-year-old Vinny and a 2-year-old Sunny.
"Stop playing the martyr," Gharib Wade said. "I think about it a lot, but somehow get lazy about treating myself."
And you're probably wondering what kind of fantasy time occupies Gharib Wade's mind. That's simple, she says.
"Having Dad make dinner for the family while I take a bath."
Photo Credit Digital Vision./Photodisc/Getty Images
Promoted By Zergnet