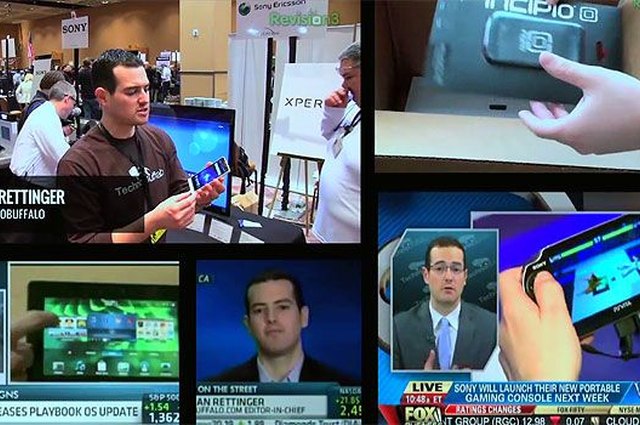 Technology is my life, it's my passion, and I feel so lucky to have the opportunity to share that with folks, to do that as a career.

— Jon Rettinger, president of TechnoBuffalo
Jon Rettinger is a lifelong technology lover, but he became a professional tech pundit by accident. When shopping for a new laptop a few years back, Rettinger settled on a Mac. Making videos seemed like a good way to learn the intricacies of his new computer, so he also invested in a camera. Soon he was posting instructional videos for new Mac users on YouTube.
The response, Rettinger says, was overwhelmingly positive, in part because technology personalities at the time tended to focus on trends and news. Few delved into the experience of technology, which he delights in. He loved every second and soon realized he was on the cusp of a new career.
So it was off to business school at University of California-Irvine to learn how to write a business plan. Today, Rettinger is president of TechnoBuffalo, a technology website that features what he calls "immersive" videos and other experiential content that both informs and entertains, and a resident expert for eHow Tech.
When you were making videos at that early stage, were you thinking about eventually making a living out of it?
Not at all. I didn't even tell my girlfriend at the time — who is now my wife — that I was doing it. Being on YouTube may be an embarrassment for some folks, but for me, one of the coolest things about YouTube is interacting with the audience. They were able to see me. I was responding to questions and emails. People felt invested in me and in the videos' success, because they felt like they knew me. Very soon I was at parity with what I was making at my job that I hated, hoping I would get in a car accident so I wouldn't have to go. At that point it became very clear which path to take.
Were your loved ones shocked to hear about your decision?
In my 31-year-old life, the hardest thing I ever had to do was tell my wife and future mother-in-law that I'm leaving a steady job to make videos for a living — and this was 2009, when things were really bad [in the economy]. My mother-in-law looked at me like she couldn't believe the words were coming out of my mouth. Now, she is very supportive and certainly very proud.
What's your eHow show all about?
I'm the resident geek, so we're talking about technology. It could be anything related to consumer electronics: cell phones, tablets, smart TVs, regular TVs, everything in between. I try to make it accessible to everyone. How to set up your smartphone, the apps you need to have, how to set up a tablet, how to set up your television. Ultimately, the goal is to show how to integrate all those things in order to live a connected life.
What would you say to people who are proudly anti-tech?
A lot of it is breaking down preconceived notions. People hear the word "Twitter," for example — it's such a silly name, and they may think badly about it. They'll think, 'This is for kids; it has no use for me as an adult.' But you can also look at Twitter and say, 'That's how I get my breaking news before CNN has it' or 'That's how I can reach my audience (or my customers).' Technology is often perceived by people as a distraction, but it can also be a benefit — it can offer many practical, life-altering uses.
Are you trying to reach people who are already tech savvy? Or are you primarily speaking to novices?
It's a little bit of a two-pronged attack. I'm certainly speaking to folks who have a smartphone and are peripherally aware of how to use it, but don't know the capabilities and how it can interact with other devices. The educated technology folks out there may know some of this, but our goal is to give them something they don't know — a new use, or a new option, for their existing technology.
The communication and connection — sharing a subject you're passionate about — must be an especially rewarding aspect of your work.
I can't emphasize that enough. Technology is my life, it's my passion, and I feel so lucky to have the opportunity to share that with folks, to do that as a career. I wake up every day with a smile on my face because I get to play with cell phones and tablets. In a previous life I was in marketing and hated my job. I used to walk around Best Buy just to de-stress at the end of the day. Now I have a Best Buy in my office. I don't take it for granted. … I play with toys for a living, and I thank my audience for giving me that chance. It's a responsibility I hold true to my heart.
Promoted By Zergnet