Leek latkes, spiced pumpkin latkes, curried cauliflower latkes and mushroom latkes with dill are just a sampling of ways in which you can reinvent the potato latke this Hanukkah.

— Hili Revzan, San Francisco-based pastry chef
'Tis the season of the potato latke. Considered a staple of the Jewish culture and a Hanukkah tradition, attachments to this fried pancake runs deep. And nobody's suggesting that you eliminate it from your holiday menu.
But by keeping an open mind and branching out to broaden your culinary horizons with other sweets and treats, you can turn the eight-day celebration into a joyous gastronomical adventure.
Fried and True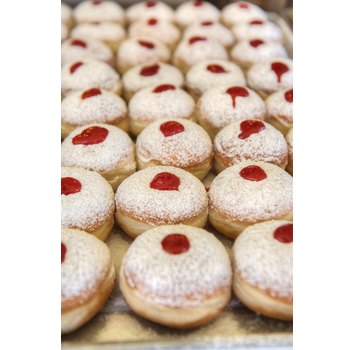 As long as you've got a bottle of cooking oil in your kitchen cupboard you're halfway to putting a deliciously inventive twist on traditional Hanukkah fare, says San Francisco-based pastry chef Hili Revzan. Fried foods symbolize the jug of oil that miraculously kept the temple menorah lit for eight days when the oil should have lasted for only one.
"I think that anything fried is always a good food choice during Hanukkah," says Revzan, who also works as a pastry consultant to a number of northern California restaurants. "You can make apple fritters or pretty much anything that involves batter, like little fried pies or turnovers filled with fruit or empanadas if you want to go multicultural."
Revzan's favorite appetizers include vegetables -- carrots, zucchini, cucumbers -- fried in a tempura batter, fruit egg rolls, and bananas and chocolate enveloped in wonton wrappers.
While it's not easy to resist the chocolate banana wontons, it is easy enough to make them. You can find wonton wrappers in the refrigerated section of your supermarket. Fill them with chopped bananas and chocolate, crimp the ends of the wrapper together to seal them, brush the edges with a little egg and water mixture and then fry the wontons in oil. Give them a good dusting of powdered sugar before serving.
Sufganiot, the traditional jelly-filled doughnuts, are always a hit among foodies, but they don't have to taste the same year after year. "You don't have to stick to a traditional filling like jelly or custard," says Revzan. "You can add pumpkin or fruit or chocolate."
Dvonye Korf, co-director of Chabad of Greater Los Feliz, in Los Angeles, suggests getting kids involved in all doughnut-making activities.
"They can put sprinkles on top, or vanilla or chocolate frosting, or powdered sugar -- pretty much anything they want," says Korf. "So long as you use the fried doughnut as a base, you can use all kinds of fillings and toppings to make it your own special dessert."
Carnival food enthusiasts can also put a fun spin on sufganiot by frying funnel cakes.
"There are some really easy funnel cake recipes online," says Revzan. "They're so easy that pretty much anyone can follow them -- and total cooking time is about 13 minutes."
Oldies But Goodies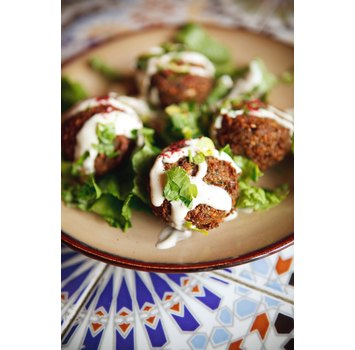 If you've got an especially hungry crowd, Revzan recommends traditional first-course offerings like your Eastern European Jewish grandmother used to make. Think brisket, roast chicken and turkey breast as popular go-to entrees for a Hanukkah feast.
"Israeli foods, of course, are always perfect for a Hanukkah dinner party," says Revzan, who's particularly fond of falafel -- fried balls of chickpeas and spices -- and hummus -- made by grinding chickpeas to a buttery consistency. She also recommends serving traditional Israeli salads with chopped tomatoes, lettuce and cucumbers.
If you're going for a subtle air of sophistication, Revzan suggests smoked salmon, or lox -- another Jewish staple -- garnished with sour cream and a dollop of caviar on top.
"You can also serve toast with different spreads, like pumpkin butter, or cranberry apple sauce, or serve a variety of fruits," says Revzan.
Today is Your Latke Day
But for those potato pancake purists yearning for that succulent crisp taste, there are endless options for frying up a batch of latkes that are anything but ordinary.
"Leek latkes, spiced pumpkin latkes, curried cauliflower latkes and mushroom latkes with dill are just a sampling of ways in which you can reinvent the potato latke this Hanukkah," says Revzan. "I think the basic idea for all of them is the same. Use a vegetable you like -- in some cases, precooking is necessary -- add some onion, egg and flour to bind the latkes together and then fry them up."
For the sweet-toothed, Chava Leiba Sneiderman, a writer for the Jewish news website Chabad.org, suggests cooking up sweet potato latkes made with cinnamon, nutmeg, cloves and ginger.
"They're easy to make using canned sweet potato puree," says Sneiderman, who advises adding or subtracting spices depending on your flavor preference – mild, medium or hot. "The taste of these latkes is a welcome twist to the traditional -- and they will also add a little color to your plate."
With the right recipe, you'll want latkes long after Hanukkah is over.
"Latkes taste so great," says Lauren Groveman, baker, cook, author and culinary teacher, "that, if you're like me, you'll enjoy serving them throughout the year."
Photo Credit AnajaCreatif/iStock/Getty Images Noam Armonn/iStock/Getty Images Justin Michau/iStock/Getty Images
Promoted By Zergnet