Holiday Travel Wear Made Easy: Women
What to Take—and How to Pack It—for a Stress-Free Trip
By Mary Avant, Contributor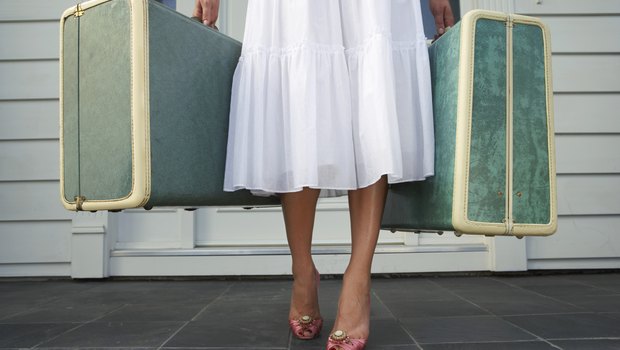 You want your items not to be worn once, but worn several times.

— Alexandra Suzanne Greenawalt, personal stylist
With the cool weather, joyful music and loads of delicious food, the holiday season is the favorite time of year for many. But between the mad dash for everyone's perfect gift and hectic travel conditions, the holidays can be stressful even for the merriest. And when it comes time to hit the road, choosing what to pack – and how to make it all fit – makes things all the more difficult. So choose carefully what to bring and what to leave behind so you can skip the stress and focus on getting to your destination and enjoying yourself while there.
Plan It Out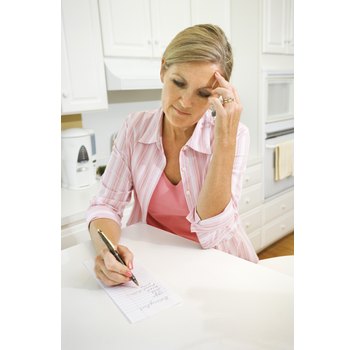 The holidays are busy, but this doesn't mean you can put off packing until the last minute. Instead, set aside time to really plan what to take. "Make a list of every event or occasion you will need to be dressing for," says Alexandra Suzanne Greenawalt, personal stylist and creator of AlexandraStylist.com. "Then figure out what you would like to wear for these events."
This means knowing where you're going while on holiday and what the people around you will be wearing. For example, don't pack formal clothes if everyone else will be wearing sweatshirts and jeans to play football in the backyard.
"The biggest culprit of overpacking is thinking and promising yourself you must have three of everything no matter what," says Kimberly Anderson, host of fashion and lifestyle web series "Kim's Closet." "Outlining the planned activities will help you narrow your outfit choices down and give you a reality check about what pieces are truly a priority."
Make a list of every outfit you're going to take with you on your trip. You should always pack pieces that can be worn more than once, Greenawalt says. "You want double- and triple-duty when you're packing," she explains. "You want your items not to be worn once, but worn several times."
Once you have your pieces picked out, put a set of outfits together for each day you're on vacation so you know you have everything covered. "Photograph each one and bring the pics with you," advises Jene Luciani, national style correspondent and contributor for shows such as NBC's "Today Show." "That way, you can get dressed very quickly while you're on the go."
Another helpful idea to make both packing and getting dressed once you've reached your destination easier, is to separately pack each outfit in a plastic bag, Greenawalt suggests. This makes it so you don't have to root through your suitcase to find the right outfit each day.
"You can also write on the outside of the bag," she says. "If, for example, you know that you're going to bring one pashmina or one scarf and that scarf was going to go with other things, you can write on the bag: 'Add pashmina,' or 'Add such-and-such necklace.'"
Achieve Packing Perfection
You might think you have a tried-and-true method for packing a suitcase, but open your mind to a few tips that just might save you a lot of space -- and stress.
The first thing you should pack are shoes. Place them face down along the bottom of your suitcase to keep dirt away from clothes. Then gather all of your underwear, socks, hosiery, and lingerie in plastic bags, and stuff these inside your shoes, advises Kimberly Anderson, host the web series "Kim's Closet." Next, roll all of your items before putting them into the bag; this will take up less space and avoids wrinkles – the only exception is silk items, which wrinkle when rolled.
To save room, roll your jewelry inside your clothes, suggests Emilia Dlugolecka, owner of Mr. and Mrs. Digz, a Chicago boutique. "Start adding in your rolled basics, like T-shirts, sweaters and jeans, as the first layer of rolled items," Anderson says. "Then, start fitting in the other items like skirts, dresses and jackets." Lay your silk items flat on top of the others. Anderson also suggests bringing two bags onto the plane: One duffel that will fit under your seat and one rolling bag. "In the duffel bag, pack your purse, laptop, books, jewelry and makeup bag."
Wear your bulkiest items – like a bigger coat and your boots – on the plane or in the car. Not only does this save space, but it also keeps you warm. "Typically the plane is kept cooler anyway, and you can avoid bulking up your suitcase that way," says Jene Luciani, national style correspondent. "If you are traveling from a cold location to a warmer destination, instead of wearing a heavy winter coat, wear a sweater coat and a pashmina as a scarf that also doubles as an airline blanket."
And a note on gifts: Unless you refuse to pay the fees for mailing your holiday presents -- which can rack up, depending on how many gifts you're sending and how heavy they are -- shipping is definitely the way to go. Not only does it save valuable space in your luggage, but it can save you hassle at the airport, too. Instead of packing your gifts, look into companies that will gift wrap and send your gifts directly to their destination.
What Should Stay and What Should Go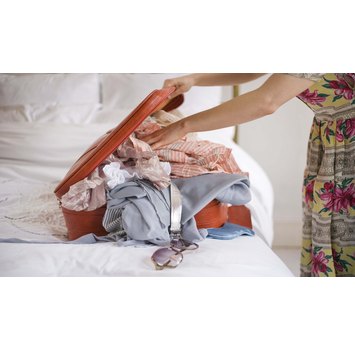 When it comes to fashionable travel, it's all about the basics. "Pick four or five neutral pieces that will get you the most style miles as you travel," Luciani says. She suggests packing items such as a classic pair of dark denim, a light cardigan, a thin tee, a simple black dres, and classic pumps or ballet flats.
"If you've pared down your base pieces – your dress, tops, pants and so on – then you can take quite a number of little accessories along with you," says Kiran Gowda, director of ecommerce at TravelSmith.com, a travel gear website. These accessories – such as scarves, jewelry and belts – can spice up each outfit you pack.
When it comes to shoes, limit yourself. "Bring shoes that will go with every outfit, like a metallic or a neutral," Greenawalt suggests. "Something that you're going to be able to walk in and be comfortable [in], but also stylish."
Susan Foster -- who's website, SmartPacking.com, teaches travelers about hassle-free packing -- suggests bringing three pairs of shoes at the most. "Wear one [during travel] and pack no more than two," she says. "Shoes are bulky and heavy. If you can cut back more here, it makes a huge difference."
While there are a lot of things you'll be tempted to take along with you on your travels, many of these need to stay at home for the holidays. Renae Virate, founder of fashion and travel website WeareverTheWeather.com, suggests leaving behind anything that's super-thick. "When you travel to a cold place, for example, you'll likely be indoors where it will be warm, so too thick will be too much," she says. "And if you are outside, you will likely be active or have your coat," she says.
Greenawalt advises leaving your expensive jewelry at home, opting for costume jewelry to complete your outfits. And try not to take anything overly formal if it's not an absolute must, advises Emilia Dlugolecka, owner and master stylist of Mr. and Mrs. Digz, a Chicago boutique. "Don't bring anything too fancy, like a gown," she says. "That's what your black dresses are for."
Keep It Simple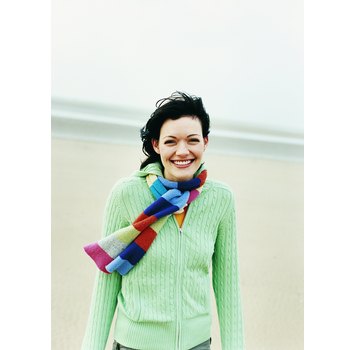 Before you make your final selections on what to pack, heed a few tips to make the process even less painful. Try to stick to one color palette when it comes to clothing so you don't have to pack shoes and accessories that match multiple colors. To keep things from getting boring, use accent pieces to brighten things up. "If you're using black as your main [color], you would pepper in tops that have more interesting colors, or you would bring in color in terms of a scarf or jewelry or your shoes," Greenawalt says.
Stick with fabrics that are less prone to wrinkling, like soft knits or jersey. "If at all possible, only pack wrinkle-free items you can fold," explains Cinda Boomershine, creator of Cinda B. travel bags and accessories. "You will avoid lugging hangers around and save time at your destination by not having to iron anything."
Finally, layering is key, especially if you're traveling through different climates. "You can easily shed or add on layers depending on where you're coming from and where you go," Virata says, suggesting you pack items such as medium-weight shorts that you can wear in warm weather or pair with tights for cooler weather.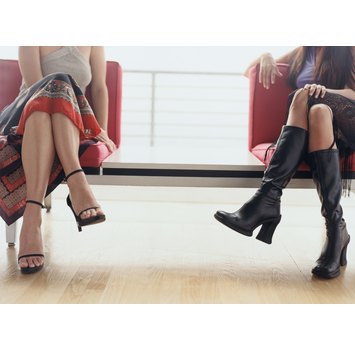 Photo Credit Noel Hendrickson/Digital Vision/Getty Images Jupiterimages/Comstock/Getty Images Jupiterimages/Polka Dot/Getty Images Digital Vision./Digital Vision/Getty Images Ryan McVay/Digital Vision/Getty Images