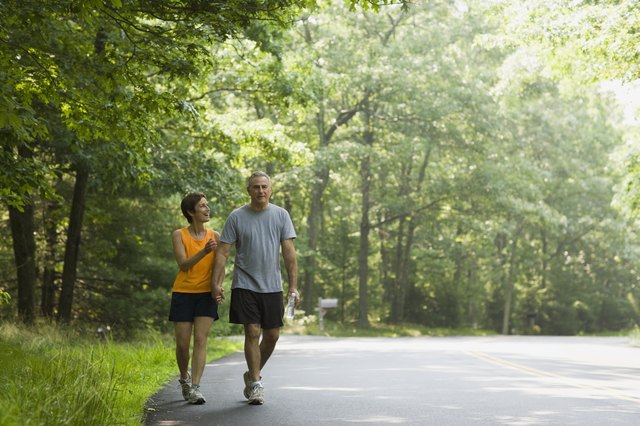 You don't have to be a jogger or a marathon runner. All you have to do is move.

— Dr. Paul Bendheim, author of "The Brain Training Revolution"
In 2008, Pam Mumper could barely walk up a flight of stairs. She struggled to fit in a stadium seat and weighed in at 260 pounds. Three-and-a-half years later and 75 pounds lighter, she's able to walk four miles consecutively, trek up flights of stairs with ease and share a stadium seat with her daughter.
For Mumper, it all began with a goal to walk one mile throughout her southern Illinois neighborhood. "I couldn't breathe very well and I would get tired so quickly," she says. "It was very physical for me and I couldn't go very far -- but it did get easier with time."
What she found comes as welcome news to many people who can't quite afford the cost of a gym membership and have no ambitions of making the cover of Shape. To jump-start a journey to a healthier lifestyle, walking -- a sport that doesn't require athleticism or expensive equipment -- is enough.
The Benefits of Walking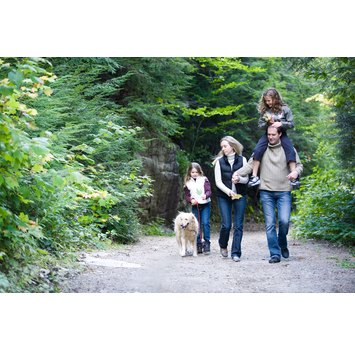 As she began her walking journey, Mumper soon realized that putting one foot in front of the other resulted in many more benefits than weight loss.
"My health is better. In fact, I now take a lower dosage of blood pressure medicine than I did three years ago," Mumper says. "It also helps clear my mind and leaves me feeling like I've accomplished something each day."
According to Dr. Paul Bendheim, neurologist and author of "The Brain Training Revolution," you can't go wrong with walking. "It is easy on your joints, keeps your muscles and connective tissues strong and your cardiorespiratory system primed and conditioned." Walking also enhances balance and posture, Bendheim says.
Jessica Matthews, a fitness instructor and certification director for the American Council on Exercise, says a regular walking program not only improves overall health and fitness, it can also improve your mood and your job performance.
"Research has shown that midday exercise results in improved mental sharpness, better time management and increased productivity among employees," Matthews says.
When stress takes over, walking can also serve as a needed break from the chaos of work and family life, says Carolyn Phillips, certified personal trainer and owner of Fit Behavior, a wellness facility in Connecticut.
"A brisk 30-minute walk can help you calm down and provide a quick pick-you-up," Phillips says. "When your heart and lungs work more efficiently, you have more energy to complete your workday with ease. It's also a great use of time to reflect and plan your workday."
The benefits of physical activity show even with moderate levels of activity.
Regardless of the distance or time, Bendheim says the key to improving your health is to take that first step. "Immediately, people start feeling better with regular exercise," he says. "You don't have to be a jogger or a marathon runner. All you have to do is move."
Adopting a Walking Routine
When Mumper launched a walking program, the flexibility of moving at her own pace motivated her. Bit by bit, she increased the distance of her walks. "It took about two years to get up to four miles," she says. "I paced myself monthly and I would increase the walking a little at a time."
The American Heart Association recommends at least 150 minutes per week of moderate exercise. A walking program tends to boast higher success rates because it is free, easy and people can stick with the routine, according to the AHA.
If 150 minutes each week seems like an unattainable goal at first, Bendheim recommends starting slowly and gradually building up your endurance. "Start with just five minutes, three or four times a week and then increase gradually," he says. "You should increase at your own pace."
Everyday tasks can also be opportunities to walk a few steps. According to Matthews, a one-minute walking break during the workday will help de-stress, re-energize and burn a few calories in the process. "Getting up from your desk and taking a short walk down the hallway can help to relieve muscle tension and stiffness caused by sitting at a desk all day."
Although the elevator is convenient, taking the stairs to the office can help build your endurance. You can also hand-deliver documents and packages throughout the day to keep your body moving.
When you're at home, Matthews recommends making fitness a family affair. "With life seeming to get busier and busier with each passing day, family time is something that is so important, yet sometimes seemingly limited," Matthews says. "Maximize your time with your family while also staying on track with your own fitness routine by encouraging the entire family to walk together."
Include the family pet, too, Matthews says -- it's "a great way to keep your exercise program on track while getting your pet the exercise and outside time that he needs."
Swapping happy hour for a walk with friends may also offer social benefits to your exercise plan. "Make social time more active by engaging in exercise with a friend and burning calories, as opposed to heading out to dinner or to happy hour in which you are consuming calories," Matthews suggests.
Mumper says that walking with friends and family made a difference in her commitment level. "Motivation is still very hard after three years, but walking with others helps," she says.
It also holds you accountable. "When you find people to walk with and keep each other motivated, you are more inclined to not slack off," Phillips says. "And because you'll all see the benefits together, you will be able to encourage one another to try new things, like entering a 5K walk together."
Photo Credit Comstock Images/Comstock/Getty Images Jupiterimages/Photos.com/Getty Images
Promoted By Zergnet