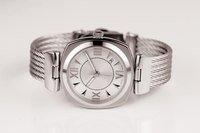 Watch batteries -- specially constructed to minimize leakage -- differ from other battery types. Each battery cell type has a different chemical makeup, however, making it more or less suitable for specific watch mechanisms.
Silver Oxide and Lithium
Silver oxide batteries, as the successor to discontinued, toxic mercury batteries, emit a constant 1.62 voltage, and store more energy than alkaline or mercury batteries. Lithium-magnesium dioxide cells, rated at 3.0 volts, emit a low current and high energy.
Alkaline
Rated at 1.5 volts, alkaline cells offer an alternative to silver oxide batteries, but without consistent voltage output or a long shelf life. Many silver oxide batteries have an alkaline alternative.
Codes
Silver oxide batteries come labeled with three numerical digits. The first digit refers to the battery diameter, while the final two digits refer to the height. Similarly, lithium batteries contain four-digit codes, with the first two numbers referring to the battery's diameter and the latter two indicating its height. The battery codes remain consistent, regardless of manufacturer.