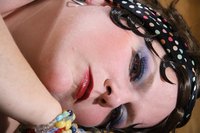 From the streamlined, conservative fashions of World War I to the marked decadence and frivolity of the "flapper era," menswear of the 1920s followed the progression of the decade. Money flowed, jazz music roared, and men veered away from stuffy and sophisticated toward comfortable and casual.
Suits
Men's suits took on a more casual appearance during the '20s. The sacque suits of the 1800s remained popular for day wear. However, suit jackets were shortened and pants became wider. Tail coats and vests were now worn primarily for formal occasions. Suits of flannel became increasingly popular and were typically worn with silk ties decorated with small, geometric patterns.

Shirts
Neutral-colored shirts in hues of putty, peach, cedar, gray and blue were commonly worn under a fitted suit jacket. Brighter colors were more often seen in men's tweed or knit sweaters. Shirts became less constrictive, a trend that found its roots in the looser-fitting garments worn by the day's most popular jazz musicians.

Pants
Knickerbockers, or knickers, became exceedingly popular during the '20s. Such pants hung below the knees and were secured around the calf. Like shirts, pants, usually made of tweed or flannel, were more baggy than in previous decades. Common shades included biscuit, gray and fawn.
Accessories
Accessories were an important aspect of men's casual wear during this decade. While black patent-leather shoes were considered more formal, lace-up styles and two-toned white and tan or black shoes with fringed tongues or winged tips were worn casually. Gloves were worn for driving, handkerchiefs were tucked in the breast pocket, and ties or bow ties completed most outfits.