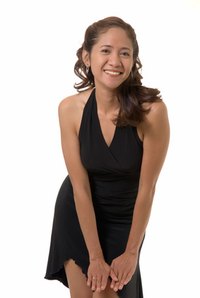 A little black dress (LBD) is a classic staple in every woman's closet. Black is elegant yet feminine and can be dressed up or down according to accessories and shoes.
Considerations
Little black dresses are so versatile that almost any color shoe can go well with a black dress. It is crucial to decide what type of look you want to create with your little black dress depending on what event you are attending.

Types
If you want to go for a sexy look, try deep red shoes with no design. For a chic look, try silver; for a poised and elegant look, try gold. If your event permits a more funky vibe, wear a brightly colored shoe such as teal, pink or an array of bright colors to create a flirty, fun look.

Misconceptions
While there is a tendency to choose black shoes to wear with a LBD, a nude or neutral shade will elongate legs and serve your needs if you are unsure about exploring more colorful options.