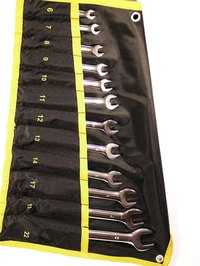 Federal and state laws actually prohibit franchise brands from providing certain potential earnings information to possible franchisees, because it can be considered misleading information. However, tool franchise businesses can be lucrative if the right conditions are met.
Expenses
Initial cash start up expenses for a tool franchise range anywhere from $46,000 to $75,000 says FranchiseGator (as of 2010). Other ongoing expenses such as franchise fees, payroll and taxes vary by location and the tool franchise brand.

Choosing a Franchise
Some tool franchise brands require less investment than others. Matco tool franchises, for example require few fees or royalties, and no real estate investment. ABC News reports that, in December 2010, Matco Tools Franchise was named the best franchise in the Tools Distribution Category and ranked 19th overall in Entrepreneur's 32nd Annual Franchise 500.

Laws
Federal Trade Commission (FTC) and state laws regulate how franchisees can receive potential earnings information from a franchiser. This information must come in the form of a Uniform Franchise Offering Circular (UFOC).