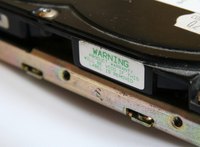 A unique identification program (UID) is a label that has been established by the U.S. Department of Defense (DoD). The purpose of the label is to identify and add value to operating supplies, plants and equipment, materials and supplies.
Requirements
Based on All-Marks.com, the DoD has required that all personal property and government-funded property (GFP) used by contractors must have UID markings.
Features
Data matrix consists of a manufacturer's identification with a part number or serial number—unique item identification (UII). This UII is then applied to a plate or label and affixed to the surface of an item, such as equipment or material. The data is checked for content and accuracy in compliance with DoD's regulations.
Function
UID labels are permanently affixed with a printed unique identifying mark or data matrix. The format of the data enables it to be read by Automatic Identification Technology (AIT). The UID registry maintains records of an item, its owner and its property management and logistics information.