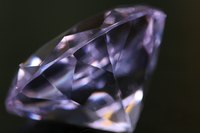 Because of their lack of notability in the gem world, black diamonds are often more affordable than other varieties. These beautiful gems are graded and certified, making them the perfect addition to your jewelry collection.
Grading Scale
Black diamonds are graded on a scale of AAA, AA, A, B, C and D. This grading system takes into account the size and clarity of the diamond.
Clarity
Clarity is the most important aspect of diamond grading, quality and pricing. Clarity means "clearness" or the diamond's ability to pass light through it. Any cracks or inclusions detract from the clarity of the diamond.
Grading Standards
Two grading scales permeate the diamond world. Jewelry store grading offers a bias towards quality, as their aim is to sell the diamonds at the highest price possible. The Gemological Institute of America offers an objective rating of diamonds and has become the international standard.