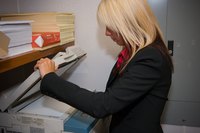 Many people simply press the copy button on the office copier, collect the copy and don't pay attention to the type of paper it's copied on. There are, however, many choices and things to consider when selecting the proper photocopy paper for your office.
Paper Weight
Paper weight is expressed in pounds and is listed in catalogs as "#" or ".lbs." Twenty pounds is the most common weight for everyday copying; however, many other weights are available. It is recommended to review your photocopier manual to find the maximum weight of paper for your machine.
Paper Brightness
All white papers are not created equally. The paper brightness rating, measured on a scale of 80 to 100, tells you how white the paper is. The higher the brightness number, the higher the contrast between the paper and the black ink, and therefore, the better the copies will look.
Recycled Content
Photocopy paper manufacturers make new paper by recycling old paper. The amount of recycled material in each brand differs. Most papers contain 30 percent post-consumer waste, while some papers contain 100 percent. Post-consumer waste is the recycling of paper already used by consumers to make new paper.