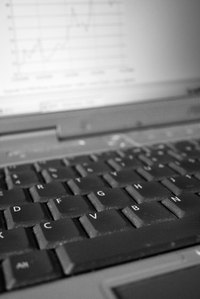 Computer paper comes in either 15- or 20-pound weight and leans toward being pure white and acid free. Since computer printers are relatively adaptable, recycled and off-white paper stock can be used by both inkjet and laser printers.
Pulp
At the mill, computer paper is derived from the same liquid mix that is used to produce envelopes, writing paper, notebooks and tablets. This brine is formed from a mixture of water, wood pulp and a few chemical additives. A mixture containing about 97 percent water, it is ready for the large paper-making machine.
Slurry
The pre-paper mixture is called a slurry, and it is located in a "headbox" or a trough at the front of the paper machine. Most paper-making mill machines are about the size of a large room. The paper-making process begins when the watery mixture is spread onto a mesh screen. Then the wet mixture passes through the machine, where it is pressed, dried and smoothed by the large rollers. At this point, the end product is a large roll of raw paper.
Raw Paper
Next, the large roll of paper is sent to the converter, where it is cut to size. Then it is packaged and sent to the end user. The chemicals added to the slurry determine the type of finish of the paper.