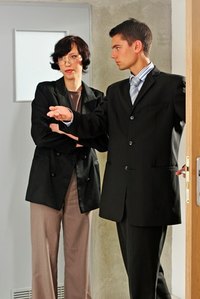 Real estate agents and brokers often use certain terms to describe the properties they are selling. In some cases, they may also be required to describe who owns the property.
Definition
An agent owner is a licensed real estate agent who has ownership interest in a property for which she is also the listing agent. The listing may either be an investment property or the real estate agent's personal residence.
Function
In some states, real estate agents must use the terms "agent owner" or "agent owned" in real estate advertisements, property disclosure forms, and multiple listing service (MLS) property descriptions. These terms are used in order to ensure that prospective buyers are not misled and are made aware that the licensee will carry out the duties of both property owner and agent (dual capacity) in the transaction.
Considerations
There are various levels of ownership for which the agent owner term is used. In some states, such as Texas, real estate agents are considered agent owners of any property of which they own 10 percent or more. In Illinois, an agent owner is someone who has 100 percent ownership interest or joint tenancy in a property.