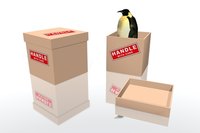 It is hard to estimate the cost of shipping anything overseas whether it is a letter, padded envelope or a medium- to large-sized package.
USPS
The United States Postal Service is one provider for international shipping. Rates vary depending on where in the world the parcel is going and the size and weight calculations. As of September 2010 a 5 lb. package from the United States to England costs $40 priority mail for a time of six to 10 business days while express mail is three to five business days but boosts the costs up to $52.
UPS
The United Parcel Service (UPS) is another alternative for shipping overseas. The shipping options offered are faster the USPS with taking only two to three business days. However, the costs exceed USPS by more than double. The slowest shipping option is three to five business days and that same 5 lb. package would cost $123.
FedEx
FedEx is similar to UPS in delivery options and prices. The slowest option is three to six business days and the rate is $123 for a 5 lb. package. For $5 more, the shipping estimate is cut down to three days.