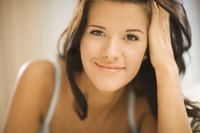 RepHresh is a clear, odorless gel that helps maintain a healthy vaginal pH balance. The gel is available without a prescription in drug stores and other retail establishments.
Function
RepHresh gel prevents excessive growth of vaginal microorganisms, preventing bacterial and yeast infections. The gel also helps control vaginal odor.
How to Use
The gel comes in pre-filled applicators. Women should use the gel for three days before and three days after their period to maintain healthy pH levels. The gel can also be used after sex.
Features
RepHresh gel does not contain hormones, antibiotics or fragrances. The gel may be used any time of day. Pregnant and breast-feeding women should consult a doctor before use. Women may engage in oral and vaginal sex while using RepHresh. A woman who suspects she has a vaginal infection should see her doctor before using RepHresh.