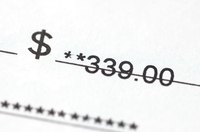 Checkable deposits are among the wide variety of bank accounts financial institutions across the country offer. A checkable deposit account is any demand account with check writing or draft issuing privileges.
Demand Deposit Account
Only demand deposit accounts can be classified as checkable deposits. A demand deposit account is an account that allows the account holder to withdraw his deposited funds without notifying his bank first. This is contrary to non-demand accounts such as certificates of deposit, in which the depositor must notify the bank of an intent to withdraw deposited funds.
Check or Draft
The distinguishing traits of checkable deposits are the check writing and draft issuing privileges. The difference between checks and bank drafts turns on who is responsible for their nonpayment. Checks are guaranteed by the person who wrote them, whereas bank drafts are bank-guaranteed.
Types
Types of checkable deposit include money market, checking and negotiable order of withdrawal (NOW) accounts. NOW accounts are savings accounts with check writing privileges.