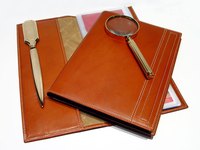 Stationary stores offer a wide range of greeting cards, writing paper, wrapping paper, journals and many other things. According to Entrepreneur, the initial start-up costs for this type of business are fairly reasonable.
Types
Opening a traditional brick and mortar stationary store is one option. You also have the option to run your store online only and work directly from your home. You may find it helpful to run both an online store and offline store.
Start-up Costs
Entrepreneur puts the cost of starting a stationary store business at $2,000 to $10,000. The cost is lower than other stores because franchises aren't available, meaning you aren't required to pay licensing fees.
Considerations
The start-up costs for a stationary store run from your home are much less than opening a storefront. When you open a storefront or physical location, you're responsible for the rent on the building, electric bills, hiring employees and other costs relating to the store.