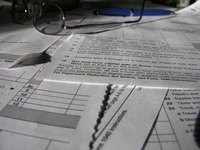 Inheritance laws across the country vary considerably and the law in Connecticut is moderate. The state of Connecticut taxes inheritance greater than $3.5 million. Anything less is not taxed.
Estate Definition
An estate is defined as: (1) The value of the deceased's estate with the allowable deductions subtracted other than the death taxes and (2)The whole sum of taxable gifts made by the deceased.
2005 Inheritance Law
In 2005, the minimum level of taxed income was much lower, at $2 million. Therefore, any inheritance acquired between Jan. 1, 2005 and Jan. 1, 2010 above $2 million would be taxed, including the $2 million.
Gift Tax
Gifts of tangible or intangible property are taxed in the state of Connecticut if the receiver resides in Connecticut. The gifts are taxed the same way as inheritance. As of 2010, any gift more than $3.5 million will be taxed.