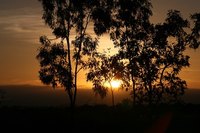 Australia and New Zealand are very different. By and large, Australia is a dry continent. New Zealand is known as the Land of the Long White Cloud (Aotearoa). But there is great variation within each country. For example, Tasmania is more like New Zealand, in terms of both land and climate.
Climate
MSN Weather is an excellent source on climate information for specific locations. The local weather forecast for a selected location gives you monthly averages of temperature (in a choice of Centigrade or Fahrenheit) and precipitation. Australia has a vast dry interior, and most towns and cities are along the coastal areas, which are cooler. New Zealand is generally wetter and cooler.
Terrain
Australia is more uniform in terrain than New Zealand, which has a great variety of landscapes: rainforests, waterfalls, glaciers, fjords, mountains and hot springs. Geothermal energy is a significant source of energy in New Zealand. However there are some stunning landscapes in Australia as well, among them interesting giant rocks, giant ant hills and tall waterfalls.

Sources for Further Information
Expatriate and camping forums are good source of information on individual places. Government departments relating to specific areas such as agriculture and mining can provide further information. Australia is always keen to encourage tourism, and contacting the local embassy or consulate is likely to prove very fruitful.