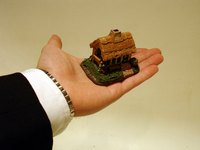 An analysis of any industry, including the mortgage industry, incorporates Porter's 5 Forces: threat of new entrants, power of suppliers, power of buyers, availability of substitutes and competitive rivalry. First advocated in 1980, these forces can be used to analyze the mortgage industry.
Threat of New Entrants
A mortgage is typically originated through bankers and loan officers. The threat of new entrants would include an assessment of barriers to entry for new lenders. These barriers include loyalty to major brands, fixed costs and government restrictions.
Power of Suppliers
Power of suppliers in the mortgage industry refers to how much pressure banks and other lending institutions can place on a competitor. If there are few lenders in the market, then suppliers may have significant power.
Power of Buyers
In the mortgage industry, the power of buyers refers to the amount of pressure homebuyers have on lenders. If there are only a small number of homebuyers looking for a mortgage, then it may be considered a buyer's market.
Availability of Substitutes
Availability of substitutes is the likelihood that a person will switch to another product to replace the need for a mortgage. If rental rates are low, then this may pose a threat to mortgage lenders.
Competitive Rivalry
In the mortgage industry, competitive rivalry refers to the intensity of competition between lenders.