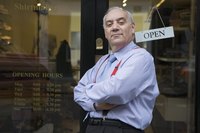 Setting up your own business can be tempting, especially in an era of financial turmoil. Be mindful of the advantages and disadvantages before you venture into the world of entrepreneurship. And remember to create a business plan before you make any financial investment.
Advantages
The biggest advantage of setting up a business is that you'll be the boss, and what you say goes. But with that freedom comes responsibility. Further advantages include the immediate benefit of fewer restrictions on your projects, increased outlets for creativity and the ability to say goodbye to the 9-to-5 workday.
Disadvantages
The severest disadvantage of setting up a business is the amount of personal risk you take on. If your business is a sole proprietorship, there is no distinction between your assets and liabilities and those of your business. Other disadvantages include the time-consuming nature of setting up a business, the higher cost relative to typical office or labor jobs, and the tendency for business owners to receive irregular pay.
The E-business Alternative
Start an online business that offers services such as business writing or dog walking, and you avoid many disadvantages. It may be as quick as setting up a static web page and sending prospecting letters from your personal e-mail account.