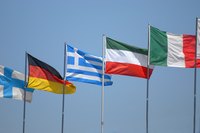 As the corporate world becomes increasingly globalized, companies must practice cultural adaptation to effectively communicate with employees, target markets and business partners. By exercising a moderate level of cultural adaptation in key settings, professionals create more effective business relationships, thereby furthering strategic corporate goals.
Cultural Adaptation and Management
Research on cross-cultural management, including a study published in a 1995 issue of "Journal of Business Research" indicate that foreign managers who demonstrate cultural adaptation, or assimilation with cultural values and behaviors of their subordinates, are viewed more favorably than managers who don't make attempts to adapt to their employees' culture. This study, which analyzed perceptions of a Japanese manager interacting with American subordinates, concluded that moderate levels of adaptation to American behaviors had a positive effect on subordinates' perceptions of managerial effectiveness.
Cultural Adaptation in Intercultural Sales Negotiations
A study published in a 1991 issue of "Journal of International Business Studies" examined adaptive behaviors during intercultural buyer/seller negotiations. In this study, moderate cultural adaptation was found to improve the attractiveness of foreign business persons during a sales negotiation process.
Cultural Adaptation in E-Commerce
With the proliferation of online business activity in the 2000s, opportunities for international business have increased; however, a 2007 study of cultural adaptation in international e-commerce indicated that many companies still had much room for improvement in this area. This study, published in the "Journal of Electronic Commerce Research" analyzed degrees of cultural adaptation in websites of 100 German companies. Findings indicated weak cultural value depiction in relevant foreign markets. The study suggests that to engage foreign customers, companies need to develop culturally adapted websites.