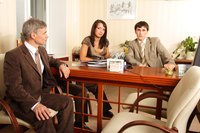 Closing on a house, when ownership transfer, is a story filled with paperwork and forms, many of which require a signature. From disclosures to finances, they reveal information about the property and the people involved.
Buyer's Signature
The book "The Complete Idiot's Guide to Buying and Selling a Home" summarizes the documents for the buyer. The buyer will sign papers related to loans, including: a truth-in-lending statement; disclosures related to the loan; affidavits that may vary by state, such as whether it is a primary residence; anything required by the state or the Internal Revenue Service; and the deed to the property. The buyer will also sign the closing statement, described by the "Dictionary of Real Estate Terms" as the document that details how the money involved is being distributed.
Seller's Signature
The seller signs fewer documents than the buyer, but he will also sign the closing statement and the deed that transfers ownership. The seller is also likely to sign loan payoff forms and affidavits or disclosures.
Other Signatures
If a real estate agent is involved, that person will sign the closing statement, as will the closing agent and the person at the title company or the attorney who is managing the closing.