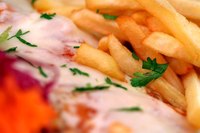 Hazard Analysis Critical Control Point (HACCP) consists of seven principles used by the retail food industry to prevent, eliminate or reduce food safety hazards that cause food-borne illnesses. The Food and Drug Administration, with support from the USDA, the CDC and the National Restaurant Association Educational Foundation, requires food producers and retailers such as farmers, fishers, supermarkets and restaurants to use HACCP plans to ensure public safety. Health and safety inspectors often review restaurant HACCP plans during inspections.
History
The idea of critical control points was first used in the 1950s by NASA to prevent contamination of astronaut food packs and later by Pillsbury to ensure baby food safety. HACCP's effectiveness in the early years lead the FDA to strongly advise food producers and retailers to embrace HACCP as a preventive measure against food-borne illnesses. Today, restaurants, grocery retailers, dairies, fisheries and produce growers all use HACCP plans to make sure that Americans have access to the cleanest, safest foods possible.
Function
A HACCP plan follows food from its origin to final point of sale, constantly eliminating and preventing contamination hazards. For example, dairy product producers follow HACCP plans to make sure that products such as milk, cheese and yogurt are prepared in sanitary facilities and refrigerated to appropriate temperatures to prevent spoilage. A supermarket receiving dairy products then uses a HACCP plan to make sure that dairy products are delivered in refrigerated trucks and that the dairy products are stored and displayed at correct temperatures in the supermarket. A restaurant serving dishes made with dairy products uses a HACCP plan to ensure that dairy products are properly handled by restaurant staff from the time of delivery to the time dishes prepared with the products are served to consumers. Other foods that require HACCP plans include, but are not limited to, meat, seafood, poultry, pre-cut fruits and vegetables, prepackaged prepared foods, canned foods and all food that is cooked or prepared for sale in businesses such as restaurants.
Benefits
Food-borne illnesses, bearing flu-like symptoms, can be devastating for children, pregnant women, the elderly and those with compromised immune systems. HACCP makes it possible for all food consumers to enjoy purchasing food at their favorite supermarkets and restaurants without fear of becoming ill.