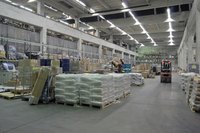 With the expansion of the Internet, businesses are increasingly relying on e-commerce and globalization to expand to new markets. With this expansion, businesses are becoming involved in complex supply chains and multiple vendors and suppliers across the world, which need to be analyzed for efficiencies and cost reductions.
Significance
Supply chain analysis benefits businesses to shorten the number of companies or processes involved, reduce inventories, improve forecasts and scheduling. This, in turn, reduces the overall costs associated with producing products, while increasing efficiencies and controlling risks.
Benefits
Businesses that find themselves with increasing numbers of obsolete inventory, incurring costs of returning unneeded materials, expediting the delivery of components and continuously experiencing materials shortages will benefit greatly from the use of supply chain analysis. Supply chain analysis allows businesses to optimize their processes to remove redundancies and inefficiencies, while creating new value-added processes.
Techniques
While small- to mid-sized businesses mostly rely on manual data collection and analyses through spreadsheets, there are also software programs available to automate the process. The software programs can be a considerable investment, yet they save on time and increase accuracy.