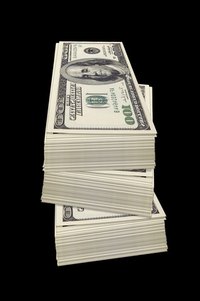 The nominal cost of debt is the stated interest rate--it is the rate that appears on your loan contract. However, the actual cost can differ depending on your payment schedule and interest-rate adjustments.
Watch Those Fees
Nominal costs do not include associated fees. So, if you borrow $100 at 5 percent interest and there is a $2 transaction fee, you are actually borrowing $102 but only receiving $100, which increases the actual cost of your debt. Lots of fees for larger debt can dramatically increase the actual cost of that debt over time.
Amortization
Amortization is the rate at which you pay off the principal amount of the debt. However, different lenders calculate the interest at different rates. Some calculate it on a monthly basis, changing the amount you pay in interest as you decrease the principal every month, while others calculate based on the amount outstanding at the beginning of the year. Since your payments are decreasing the principal, your interest is actually rising each month in this situation--again, a marked difference from the nominal cost.
Consider Inflation
Finally, there is inflation. This decreases the actual cost as the actual value of the money borrowed decreases. For example, as of 2010, college graduates in New Zealand have interest-free student loans. However, inflation was 1.8 percent in June 2010. Therefore, the actual interest rate was -1.8 percent, even though the nominal cost was 0 percent.