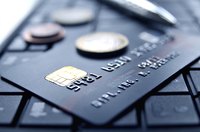 The Fair Credit Billing Act grants consumers certain rights regarding credit card purchases. If you need a refund because of an error, fraud or poor quality merchandise, your bank is required to investigate your situation and issue you a refund if the evidence supports your claim. Consumers also are entitled to a refund for any credit balance left on their credit card account.
Refunds for Unsatisfactory Merchandise
If an item you purchased didn't live up to your expectations, the Fair Credit Billing Act gives you the right to dispute your credit card purchase. First, you must contact the seller and try to resolve the issue on your own. If that doesn't work, your credit card company can help. In order to dispute the charge with your credit card company, the act requires the charge be for more than $50 and the purchase must have been made in your own state or within 100 miles of your address. However, many credit card companies go beyond those minimum requirements and will allow you to dispute a purchase for lower amounts made at any location.
Refunds For Unauthorized Charges
Consumers have very limited liability for purchases made without their permission. If you lost your card, someone stole it, or someone used it without your permission, you're only liable for up to $50 of the charges. Most banks will waive this $50 fee and refund all charges. If you informed the bank that your credit card was stolen before any unauthorized charges were made, you technically aren't liable for any of the charges.
Refunds for Errors
If you were overcharged for a product due to an error on the part of the merchant, you can get a refund for the erroneous amount. Banks are required to acknowledge credit card disputes within 30 days and must resolve your dispute within two billing cycles or 90 days. However, they are only required to address your complaint if you send it less than 60 days after you receive the bill. In addition to identifying the erroneous charge, it's beneficial to include other documents that support your stance. Email correspondence, receipts and merchant advertisements can help you prove that you were charged an incorrect amount.
Refunds for Overpayment
Along with refunds for purchases, you're entitled to a refund for any overpayment you made on your credit card account. If you received a refund on old credit card purchases and you don't keep a balance on your account, you could end up with a credit balance. The Federal Trade Commission allows consumers to request a refund if the balance is more than one dollar. The bank is obligated to refund your credit balance within one week of your refund request.