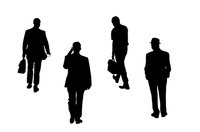 To work productively as a team, team members need to feel comfortable. Ice breakers are the best way to jump start the process.
Team Participation
Team meetings are successful when individual members willingly contribute ideas. The team is more likely to be productive and effective when all members participate.

The Key to a Successful Ice Breaker
Ice breakers encourage participation. The key to a successful ice breaker is for it to be low risk enough that members will want to join in, yet have enough risk that participants venture slightly outside of their comfort zone.

The Birthday Ice Breaker
The '"Birthday"' ice breaker is an ideal way to jump start a meeting. Have everyone stand in a line. In total silence they have one minute to reorganize in order of their birth month and day. Everyone's equal input is required in order for this activity to be successful. Team members will see that their input matters which will make them feel more comfortable and more willing to share their ideas.