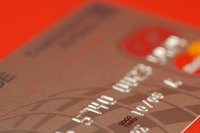 When a consumer uses a credit card for certain types of transactions, there is a period of time where the transaction sits in limbo. The charge is considered an outstanding credit card authorization until it actually posts to the consumer's account.
Charges
Companies use outstanding credit card authorizations to protect themselves. By placing an authorization on an account, a company verifies that the account is in good standing and has the available credit amount on it to cover the expense. It is not considered a charge for the customer until the transaction posts.
Types
Outstanding charges can occur with any transaction, but are frequent in transactions with hotels and car rental companies. An outstanding authorization is like a hold on an account. A hotel protects itself by putting this hold on a guest's account when the guest checks in. The hotel proceeds with the transaction after the guest checks out, which allows all charges to be added to the total bill.
Balance
All credit cards have credit limits. The available credit amount is an amount that is still open and usable by the card holder. When transactions are considered outstanding authorizations, the amount is removed from the available credit even though the amount has not yet posted.