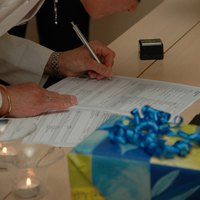 Banks provide letters of credit and letters of guarantees to purchasers of overseas goods at the request of a seller. These letters guarantee that the seller will receive payment and that the buyer will receive the goods.
Letter of Credit
A letter of credit is granted to businesses wanting to purchase merchandise when a seller requests one. A bank gives this letter to the seller, guaranteeing that if the buyer does not have the funds to pay for the goods, the bank will pay the bill. A seller may ask for this protection.
Letter of Guarantee
A letter of guarantee takes a letter of credit one step further. The bank in this case guarantees both parties involved. If the buyer cannot pay for the goods, the bank pays the seller. If the seller cannot supply the goods or if the goods are damaged, the bank pays the buyer for the amount the transaction represents.
Financial Institutions
The bank is considered a third party with these letters and holds a great deal of risk. A letter of credit is not as risky for the bank as a letter of guarantee. In either case, the bank assesses the buyer's financial history when considering whether to grant a letter.