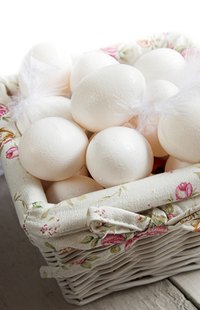 The United States Department of Agriculture Dietary Guidelines for 2010 recommends a daily allowance of .8 grams of protein per kilogram of body weight. Since most Americans know their weight in pounds, it is necessary to convert pounds to kilograms to determine their daily recommended allowance of protein.
Body Weight
One kilogram equals 2.2 lbs. Divide the body weight in pounds by 2.2 to determine body weight in kilograms.
Protein RDA
Multiply the body weight in kilograms by .8 to determine how many grams of protein to consume per day.
Protein in Food
A daily recommended allowance of 50 grams of protein does not equate to 50 grams of meat. Three ounces of lean meat or poultry has about 25 grams of protein. 1 cup of milk or yogurt has 8 grams and cereals, grains and nuts have about 2 grams per serving.
Additional Recommendations
According to the USDA Dietary Guidelines for 2010, consuming 15 percent of total calories in protein is typically sufficient for adults 18 years and older. Children's needs vary from 10 to 30 percent. Note that these numbers are based on the Dietary Guidelines and suggested calorie intake for a healthy diet, which vary with age, body size and activity level.