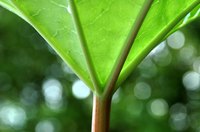 Chlorophyll is the substance that makes plants green and lets them absorb light from the sun so they can grow. All green vegetables have high levels of chlorophyll, and it is available in most health food stores in supplement form.
Cancer Treatment
Most of the research on taking chlorophyll in supplement form has been carried out for the prevention and treatment of cancer. Research suggests the human body can absorb chlorophyll and it may work well as an antioxidant.
Hair Growth
Several hair-growth formulas claim chlorophyll can speed up hair growth. However, there is no scientific evidence to back this up, other than a few personal testimonials and the manufacturer's claims.
Increased Oxygen Levels
It is possible that by increasing oxygen uptake in the blood, which some studies claim chlorophyll can do, the body may function better. Therefore body tissues, including hair follicles, which rely on oxygen for proper growth, may be more active.