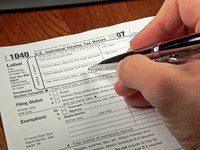 The idea of enduring an Internal Revenue Service (IRS) audit is a nightmare for most taxpayers. Part of the anxiety is because most Americans aren't sure what the consequences of an audit are, or what their individual rights are. Fortunately, the IRS is reasonably clear on these points.
Balance Due
If the IRS auditor who reviews your return does not accept your return as filed, you will receive in the mail a list of proposed changes--often resulting in more tax due. If you agree with the changes, you can sign the enclosed letter and send it back to the IRS along with your payment.
No Change
If the IRS auditor who reviews your return accepts it as filed, then you will receive a notice in the mail informing you that the audit examiner proposed no changes to your income tax return. In this case, you are not required to take any action but should keep a copy of the notice on file for your records.
Appeal
Taxpayers who are unhappy with the IRS' audit determination may file an appeal. To request a conference with appeals office personnel, follow the directions in the IRS' letter of determination that you received in the mail. If you are unable to reach an agreement with the appeals office, you may request that your case be heard in tax court.