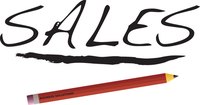 Customer relationship management (CRM) leads are basic sales leads that have not yet been qualified. When loaded into a CRM sales software tool for qualification, the lead is considered a CRM lead.
Definition
According to most definitions of CRM leads, including one from CRM Dynamo, a CRM lead is distinguished from other types of CRM contacts based on the fact that your company has made no contact with the prospect.
Qualification
Salespeople looking for new business turn to CRM leads. The first step in using a lead is the qualification step. This is the process of determining if the prospect has the potential to be a good customer fit for your business based on the prospect's need for your solution, his willingness and ability to buy and the potential time frame for purchase. Once qualified, a lead turns into a contact or opportunity in CRM. Salespeople want to keep CRM listings organized for efficiency.
Lead Generation
CRM leads are generated in several ways. They are basically sales leads managed through CRM. CRM leads can be acquired personally, through networking or trade shows; purchased from third party list sellers; acquired through an online survey or acquired through other touch points.