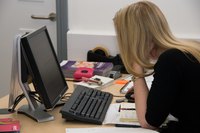 Businesses need satisfied customers in order to survive and thrive. In a customer service culture, a business organizes itself according to customer needs to remain sustainable. This strategy encourages customer loyalty.
Features
Customer service cultures share traits based on interaction with customers. These traits emphasize communication with the customer and well-trained employees.
Knowledge of the Customer
Using customer data, like purchase histories, strengthens the client relationship by allowing personnel to tailor their service to the individual client. Tailoring this data to the customer makes the individual more likely to return and to refer new business.
Responsiveness
Listening to and considering both complaints and compliments from customers provides the business opportunities to improve their service. Responding to feedback can also open unexpected opportunities for new business.
Employee Empowerment
Allowing customer service agents some freedom to make decisions can strengthen the client relationship. This autonomy could include releasing small refunds or recommending additional products and services based on customer needs.
Accessibility
In a customer service culture, it is easy to reach the company. Phone numbers, emails and, as of 2010, social media are all easy to locate and lead directly to a live service representative.
Knowledgeable Staff
Customer service representatives know the products and services of the business well and can educate customers in how to use them. Staff also know common customer concerns and can recommend ways to address issues.