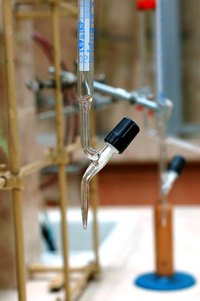 The International Organization for Standardization (ISO) developed ISO 17025 for use in laboratories that perform testing and calibrations. ISO 17025 covers standard testing, nonstandard testing and lab-developed testing methods. The current release was published in 2005.
Benefits
Some companies, public and private, will award contracts only to laboratories that are accredited. Additionally, companies that do not require accreditation may give preference to labs that are ISO 17025-qualified. A lab that is accredited continually improves in the areas of quality and effectiveness.
Requirements
All labs that are ISO 17025-compliant must meet several requirements. Samples must be well documented and uniquely identified, and test results must be monitored for quality and integrity. Testing equipment must be calibrated and maintained. Written procedures should be used for all aspects of lab activities.
Accreditation
In order to become accredited, a company must perform an analysis of what is currently practiced in the lab and decide if the costs associated with meeting the ISO 17025 standard are worthwhile. If management deems it reasonable, the lab must then bring all aspects of its operations into compliance in order to be awarded the standard.