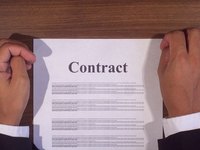 Maintenance agreements govern the repair of any type of equipment. These legal agreements also contain cost and purchasing information.
Repairs or Service
Maintenance agreements are technically contracts that detail either the repair of or service to any type of equipment.
Cost
Maintenance agreements include information about the annual cost of repairs that are necessary to maintain the equipment; the maintenance agreement itself may also carry a cost.
Parties
Maintenance agreements are contracts between two people or businesses. For example, there can be a maintenance agreement between a property owner and his local government regarding water maintenance.
Scheduled Maintenance
Maintenance agreements set forth specific times when the designated maintenance will take place. Most maintenance agreements require yearly inspections and maintenance repairs or services.
Problems
A maintenance agreement will also set forth what happens if the contractual agreement is not met. This could mean extra costs or liens against property.