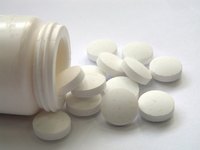 Glutathione, also known as gamma-Glutamylcysteineglycine and GHS, is an antioxidant and helps to protect cells from free radicals. A small protein found in the human liver, it may reduce the development of cancer, but the exact effect on humans is still unknown. More recently, it has been used as a cosmetic skin whitener.
Function
Glutathione neutralizes free radicals, which are atoms that have an odd number of electrons and when interacting with oxygen can cause cells to die or function poorly, and reactive oxygen compounds. It is produced by cells as the major endogenous antioxidant, which can interact with free radicals safely and stop the reaction that damages cells. It detoxifies foreign compounds and cancer-causing carcinogens. It is also an essential part of the immune system.
Dosage
The typical glutathione dosages range from 50 mg to 600 mg, when taken by mouth (though research suggests this method may be ineffective because glutathione is not very well absorbed by the body). Some clinical studies have suggested a dose of 600 mg every day or every other day when injected. A 600-mg twice-a-day dose (1,200 mg daily) has been prescribed for inhaled glutathione.
Warning
Because glutathione is a dietary supplement and not a drug, it is not closely regulated, and its effectiveness and safety are currently (as of August 2010) under study. The safest maximum dosage of glutathione has not been established, so you should follow the directions of the glutathione product that you're using. For example, the maximum dosage for skin whitening purposes varies from the maximum dosage for antioxidant purposes.