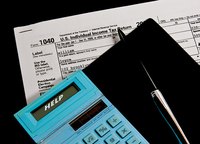 If you receive income from one of the disability benefits programs administered by Social Security, it is important to be aware of your tax obligations. Depending on the program you participate in, as well as sources of other income, you may have to pay taxes on your benefits.
Social Security Disability Programs
The Social Security Administration administers two disability benefits programs. Social Security Disability Insurance (SSDI) is earned by working and paying taxes into the Social Security system for a specific period of time. Supplemental Security Income (SSI) pays benefits to disabled people who have little income and few assets.
Taxes
SSDI benefits can be taxed if you have other sources of income and your income exceeds a certain threshold. As of 2012, if your total income is more than $25,000, or $32,000 if you file a joint return with your spouse, you will probably have to pay taxes. SSI benefits are not taxable.
Warning
The Social Security Administration cannot withhold state or local taxes from your SSDI check, though it can withhold federal taxes. You are responsible for managing your money so that you can pay your taxes when you file your annual return.