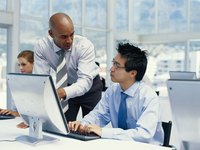 The B2B electronic business (e-business) model refers to e-commerce taking place between businesses. The need for business to business transactions varies from retailers ordering from wholesalers to businesses acquiring services such as Internet access and website design.
Significance
According to Vanderbilt University, the goal of B2B electronic business models is to improve the efficiency of a company's supply chain. B2B e-business models improve the efficiency of a supply chain by creating a more diverse marketplace and lowering business expenses. E-business can lower business expenses by reducing the need to travel and lowering the number of workers needed on staff.
Benefits
By lowering business expenses in business to business transactions, companies can afford to lower prices for their customers. Additionally, B2B e-business models create new opportunities for smaller companies by reducing financial barriers to business.
Considerations
A businessperson might consider using e-hubs, websites that brings buyers and sellers together, for business to business transactions because e-hubs help keep electronic business simple. According to the essay "B2B Business Models," written by Dr. Ruth A. Wienclaw for EBSCO Publishing, e-hubs make B2B transactions simpler by making product descriptions more available, as well as making credit checks and evaluations easier to perform.