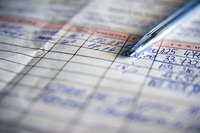 Vendors submit invoices to a company's accounts-payable department for payment. A company's accounts-receivable department might issue receipts for payments made by customers or clients.
Function
An invoice is a document submitted to a company for payment of goods or services. A receipt shows proof of payment for goods or services.
Invoice Components
An invoice contains an invoice number, vendor contact information, billing date, payment amount due, and any supporting information, such as a purchase order number or authorization number.
Receipt Components
A receipt contains the purchase date and description of goods and services in addition to the total amount paid for the item, including sales tax and delivery fees if applicable.
Invoice Considerations
Invoices might show the deduction of partial payments from the total invoice amount due, if a retainer fee or initial deposit has been paid before purchasing services or goods.
Receipt Considerations
Businesses and consumers can use receipts to claim tax deductions for things such as charitable donations or business expenses.